You are invited to meet our colleagues from Lugera – The People Republic, to discover their stories and to learn from their experiences. Any questions or curiosities? Leave us a comment below and we will gladly answer it! The pass is now at Valentin Iftimi who, despite having joined the republic less than one year ago, has responded with enthusiasm and has switched roles, becoming the one interviewed.
1/ How long have you been with Lugera – The People Republic?
I have joined Lugera's team this year, right in the first day of February, and the reason for which I have chosen to take this decision was the fact that I can continue my career as a recruiter, but for clients coming from very different fields.
Until joining the republic, my job was pretty specialised – I was recruiting for engineering and medical jobs. Here at Lugera, I have witnessed and received opportunities to learn and apply methods and strategies completely new for me, but also to interact with managers part of different organisational cultures.
2/ What's the most WOW thing that we don't know about you?
The most interested… would be the fact that, in the beginning, I wanted to never work, but I was very keen to have my own business. I waited for a little while to make it happen until in my sophomore year in university, when, together with a very good friend of mine, I began to operate an online shop for fragrances. Later, our plan was to bring mobile phones from… Nigeria. Even though the fragrances business didn't work out (because… university, exams, make-up tests and exams again 😊), it was an experience which has taught me a lot of things.
Even more unusual about me is that I take very seriously my role as the event planner in our friends' group; just that I don't organise any events, but especially New Year's Eve parties. I think there have been five such parties in a row for groups of up to 25 persons. From setting the budget, researching for locations and tough negotiations, to buying party products, I like to be in charge of every little detail.
3/ What's your way to relax at the end of the day?
I don't even feel when time flies, especially when I'm busy. But, at the end of the working hours, I choose to relax at the cinema, or in the comfort of my own sofa, in front of the TV. Another option for when I feel the need to forget about worries can be an evening at the theatre… provided it is a comedy playing! 😊
4/ What's the funniest thing that happened to you lately?
Ha ha! I have always made fun of those who can't keep the record of their vignette and are always surprised when it expires… well, I was caught in the same situation, and now I'm impatiently (or not) waiting for my "congratulations card" from the Romanian Police, especially since I drove for about a week without a vignette. Hoping for the best and… keeping calm 'cause now I have one!
5/ What's your latest post on Facebook?
My last post is a track I stumbled upon when listening to a mix. It's a deephouse track, the genre that relaxes me a lot. As of my latest photo on Facebook… it's one shot in Vama Veche: day, normal people, sunny, warm… I wasn't courageous enough to post one made during the night. 😊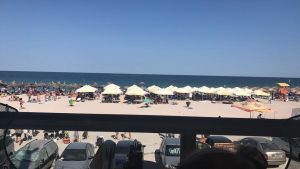 6/ What do you like most about your job?
I think that there are two interesting faces of this job, both keeping me connected to it:
Discovering new companies and organizations, learning their new developments plans and understanding the future of the workforce.
Sparking the interest among people wanting to make a change in their career, "waking them up" from the complacency they're in at the current job and determining them to evolve.
7/ Who and what inspires you?
At the job and everything related to my professional life, I like to believe that I'm a team player in the true meaning of the word: not only do I "play" together with my colleagues and team leader, I also learn and rely on them on a daily basis.
8/ How lucky are you and why?
If I would have to believe that lucky is to win something, I would rather say that I'm unlucky: i have never won the lottery… only a few sport bets. In these cases, I think that luck is purely a problem of maths and is based on a lot of information.
Now, if I must be serious, I am a very lucky guy in life, having been saved from drowning and from an accident in which the car was completely damaged. Maybe I have 9 lives… 7 left… what could be next?
9/ Tell us about your day using a movie title.
The wire – TV series
Pulp Fiction – non-stop adrenaline
10/ If you could choose one song to play every time you walked into your office, what would it be?